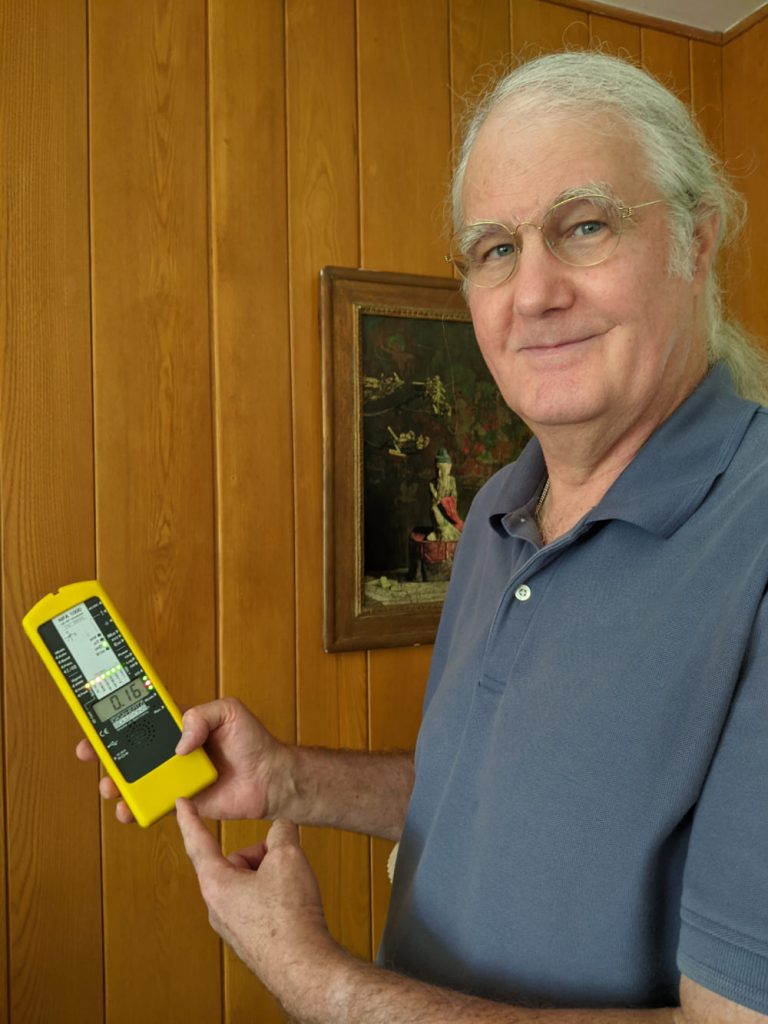 Oram Miller
BBEC, EMRS, Certified Building BiologyTM Environmental Consultant and Electromagnetic Radiation Specialist and Healthy New Building and Remodeling Consultant.
Providing On-Site EMF Evaluations for Existing and New Homes and Offices in Los Angeles, Orange, Ventura, Riverside and San Diego Counties and Nationwide by Telephone and Skype.
Based upon the principles of Building BiologyTM
Oram Miller on the signs of EMF sensitivity
Building Biology EMF Services
If you are looking for Building Biology EMF services for your home, Oram offers various types of EMF services which can be found in detail below. You can also book a consultation with Oram here.
Education – EMF Articles
If you are looking to learn more about EMFs and their influence on your everyday life, there is a separate education section that consists of EMF articles written by Oram over the past 20 years that cover all of the important information about EMFs and get regularly updated.
On-Site EMF Evaluation
A full evaluation of electric, magnetic, radio frequency and dirty electricity field exposure. We begin with a discussion of what EMFs are, where they come from, how they affect our health, and what we can do about them. This evaluation is especially helpful for people with chronic fatigue, fibromyalgia, headaches, insomnia, "brain fog" and other symptoms of electrical hyper-sensitivity, or EHS
Phone/Video EMF Evaluation
For those living outside Southern California. Consultations are available long distance by telephone, Zoom, Skype, and email for those individuals, families and businesses in the US and Canada outside my local travel area of Southern California. I have even assisted clients outside the USA, including Canada, England, France and Australia
New Home/Pre-Purchase EMF Evaluation
This includes an evaluation of electric, magnetic, radio frequency and dirty electricity field exposure for those who want to move to an existing home, apartment or condo unit. My main concern is to rule out "deal breakers". This includes sources of EMFs that you have no control over and cannot effectively reduce, eliminate or shield against once you move in
New Construction & Remodeling
This service provides an individualized consultation covering healthy wiring in new home and office design and construction, as well as remodeling, all for the purpose of eliminating or reducing potential EMF exposure. The initial consultation lasts two to three hours. The fee includes a report and follow-up questions with the homeowners
Newport Beach, California
"Having Oram Miller come to my home for a screening was extremely worth every minute! First, his quick education and presentation on the types of EMFs was very informative. I did not know about the different types and their possible impacts to health. Secondly, his screening of the rooms and feedback was very thorough and reassuring. I learned a few quick fixes on safety and reducing exposure to EMFs. This is a topic everyone should know about and I truly believe that in time the world will understand the impact some of these exposures have on health. I recommend Oram to everyone I know. It is reassuring to get your home screened and to know where you may need a simple fix or change. Thank you ORAM!"
— G.T., Newport Beach, California
Compton, California
"I am 100% healed of my chronic fatigue and its definitely related to what you did about my breaker box and your advice. It's been about three to four months since you came to my house. It was about three weeks after turning off the breakers before feeling normal again. It's been ten years since I've felt normal and I had drive. I was always so tired and exhausted and had nothing in me every single day. It's been years of it. Just the simple thing of turning off the breakers at night takes it away. Whenever my husband forgets to turn off the breakers, I immediately wake up in the morning exhausted with no drive. It's such a direct issue. This was the last piece of the puzzle. I've done so many things over the years but never fully felt myself. And this did it. I'm so appreciative of you. Keep it up. I'm so grateful. You're really changing people's lives. It's absolutely amazing. I wanted to make sure you knew how you've impacted my life."
— R.C., Compton, California
Ramsey, Minnesota
"I just had to express my heartfelt 'thank you' for taking away my weeks of anxiety and failed searches to find anyone to help me help my mom. I realize I didn't find just 'anyone,' but rather the best in your field!! (Oram's response: *Blush!*) And: Thank you for speaking with me over the phone today. I cannot begin to tell you what relief I feel to know I have a true, confident, and kind professional to work with. It never ceases to amaze me how much power we have (or, are given by God) to lighten another person's burdens… and you have done that very thing!"
— L.S., Ramsey, Minnesota (telephone consultation)

San Juan Capistrano, California
"Thank you, thank you, thank you for all the tedious electrical problem solving and continued education on the harmful effects of EMFs, Wi-Fi, cell phones, grounding issues and so much more at our house Monday and yesterday. I am so grateful that the EMF issues were able to be identified and solved. I slept like a baby last night thanks to you and your team. Your knowledge sharing, expertise, patience, professionalism and kindness are appreciated more than I can even articulate. You are such a blessing to the people you serve and for the work you are doing to makes homes safer. I feel honored to have met you. Thank you so much! I'm sure we'll talk again soon."
— C.S., San Juan Capistrano, California
Blaine, Minnesota
"For the longest time, I had been waking up with a slight 'heaviness' in my head, almost like a mild hangover. It didn't affect my clarity of thinking but it was very annoying. Turns out it was a sensitivity to EMF (electromagnetic frequencies). Oram Miller came over to do a 4-5 hour assessment. He was very thorough. We ended up moving our bed from one bedroom to the other and shutting off two rooms in the fusebox every night. Man, what a difference that made! You know what it's like waking up after camping outdoors-your head is clear and you feel refreshed? That's what it feels like now to wake up every morning. It's like night and day! I highly recommend Oram. He's very passionate about his work and very caring, too."
— P.B., Blaine, Minnesota
For those who are new to Create Healthy Homes, please read the following before calling or emailing (click to expand)
Thank you for contacting me. I ask for your patience in doing so. I get several calls, emails and texts each day from clients and those wanting EMF advice. I do my best to call everyone back as soon as possible. If you have already worked with me or want to schedule an appointment, go ahead and call, text or email me now. You are my priority.
If you are asking for advice on EMFs, especially if you are electrically hypersensitive (EHS), please know that I only have a short time to talk with you, for free. I usually have several calls to return each day. In order for me to best help you, please first read the articles that I have written on EMFs on my website. Find them on the Education page under the menu choice "All About EMFs" on the far right of the menu bar. Click on "EMFs" in the drop down menu. Read the articles Introduction to EMFs and on the four specific types of EMFs. The direct link to the articles is here. Or, scroll down to Articles on the home page. Also, read Safer Use of Cell Phones and Safer Use of Computers.
Those articles may answer your questions. If not, feel free to call, text or email me. I will refer to the information in those articles when we speak. Kindly keep your medical history to a couple of sentences, briefly explain the particulars of your situation, and have pen and paper ready to take notes. I will need to ask you specific questions to fully understand your situation.
I have to be brief because I have other calls to return and I usually only have a short time available, so let's be efficient with our time. That way I can get to all the people who call me and my colleagues wanting EMF advice.
If you want more time, then call to schedule a long-distance Phone/Video EMF Evaluation (I have a sliding scale if needed).
Thank you for your understanding.
Building Biology-Based New Building Manual
Oram has co-written a new building manual on healthy, non-toxic envelope materials in conjunction with George Swanson, BBEC, builder and Building Biologist in Austin, Texas and our editor, Wayne Federer in Wisconsin. The manual is available through our website, www.breathingwalls.com.
Articles on EMFs
The following links on the right bring you to Articles on EMFs written by Oram Miller