Oram Miller, BBEI, has participated in the design and construction of numerous building projects around the country.
Most of the projects are new and remodeled single-family residences where Oram works closely with the homeowner, as well as their architect, builder and subcontractors. Recommendations are provided at the design stage and at all phases of construction to help create not only a sustainable and "green" home, but one that is healthier as well.
Oram has worked extensively on numerous building projects in Minnesota, Wisconsin and elsewhere throughout the country. He is currently consulting on new construction and remodeling projects in Massachusetts, Illinois, Minnesota and California. Scroll down this page for photos of new home projects.
For more information on Oram's consulting services, click here. To read Comments from Clients who are involved in new building and remodeling projects, click here.
Note: To view a PDF version of the slides presented at Oram's Healthy New Building lecture, click here.
Single-Family Residential Projects
Three examples of residential building projects that Oram has consulted on include the following:
New Residence in Western suburbs of Minneapolis, Minnesota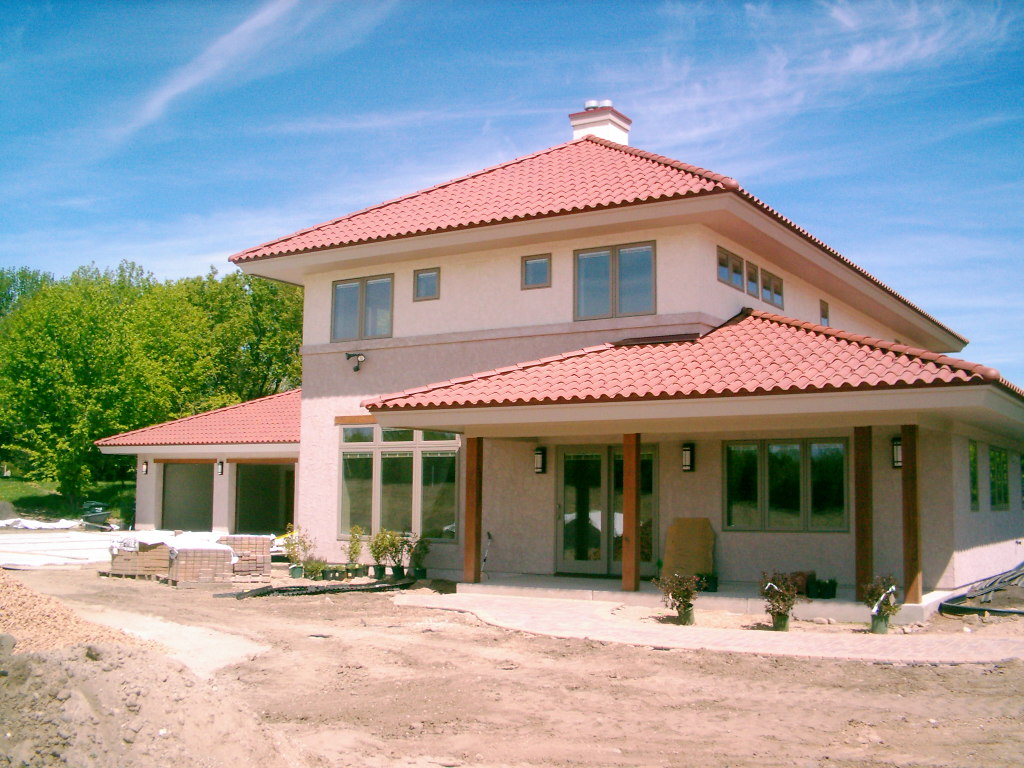 This residence is built with Durisol wall forms supplied by Durisol of Hamilton, Ontario, Canada (905-521-0999).
The architect is SALA of Excelsior, Minnesota (952-767-3208).
The builder is Howard Homes of Princeton, Minnesota (763-286-1164).
For more photos and information on this project, click here.
New Residence in Edina, Minnesota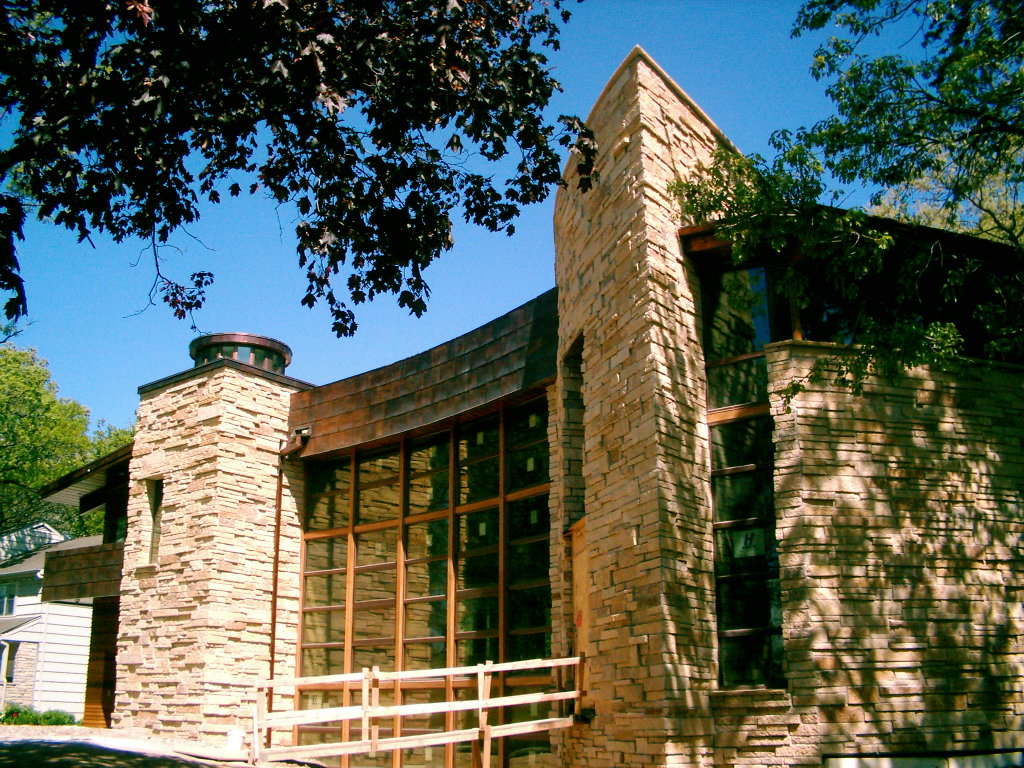 This residence is also built with Durisol wall forms.
The architect is RKD Architects of Edwards, Colorado (970-926-2622), using a design inspired by Frank Lloyd Wright.
The builder is Choice Wood Company of Saint Louis Park, Minnesota (952-924-0043).
For more photos and information on this project, click here.
New Residence in Minneapolis, Minnesota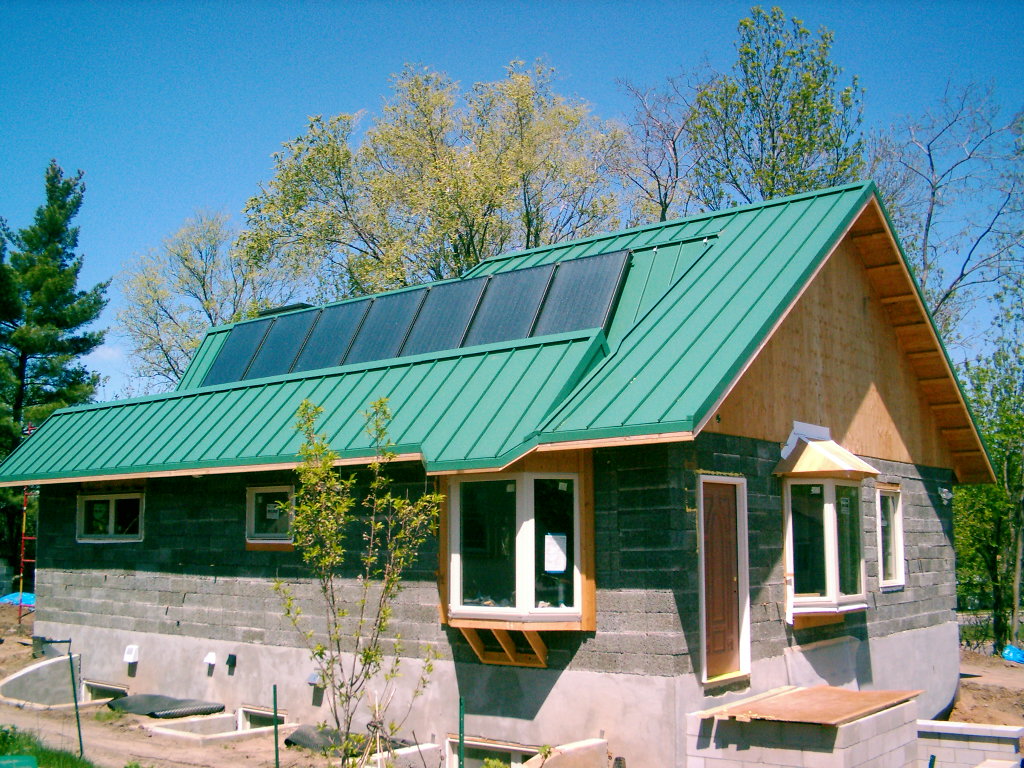 This residence is built with Faswall wall forms supplied by ShelterWorks of Philomath, Oregon (541-929-8010).
The architect is Richard Venberg of Minneapolis, Minnesota (612-331-3032).
The building is supervised by Swainhart Construction Services of Minneapolis, Minnesota (612-724-8288) and by the homeowner herself, Barb Lutz, who served as general contractor.
For more photos and information on this project, click here.
Commercial and Large-Scale Residential Projects
Oram has also worked with developers of large scale commercial and residential projects who wished to build healthy living and work spaces.
Examples include:
Le Parisien Flats and Market Place, Minneapolis, Minnesota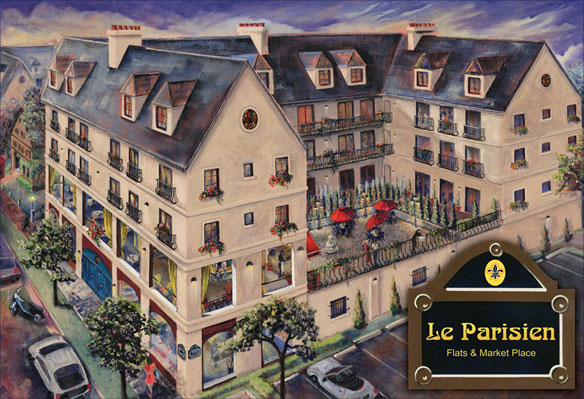 Le Parisien Flats and Market Place is an award-winning mixed use five story condominium project located at 2301 Lyndale Avenue South in Minneapolis. Incorporating European design, the developers used the principles of Building Biology and Feng Shui to create a healthy and holistic environment for occupants.
The design is eco-friendly, making use of water conservation, acoustic engineering, and renewable resources and principles. The roof is solar-ready for the addition of passive solar heating panels and photovoltaic electric panels in the future.
Each of the thirteen condo units feature Building Biology principles in their design, such as wood floors with in-floor radiant heat, green and non-toxic building materials, cross ventilation and the lack of common hallways. A healthy wiring protocol was followed to reduce occupant exposure to harmful electro-magnetic fields.
Developed by Mark Dziuk and Steve Johnson of Velocity Investments. Call 612-548-4848 for more information.
Mandala Club, Vero Beach, Florida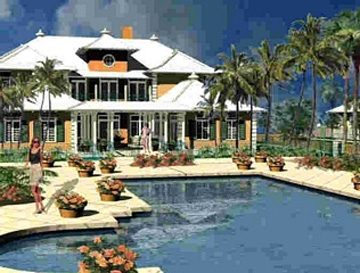 Mandala Club is a 90 unit residential community on the east coast of Florida in Vero Beach. Single family villas, cottages and estate homes as well as condominium units are available, all built according to the priniciples of Vedic Green Design and Building Biology.
Vedic Green Design is based on Vastu, the ancient building practice of India brought to light in recent times by Maharishi Mahesh Yogi. Vedic Green Design incorporates principles known throughout the ages to promote better health and success in life. All homes in Mandala Club are designed to be energy-efficient, ecological, and non-toxic.
Oram Miller, BBEI, along with his mentor and colleague, Spark Burmaster, worked with the developers at the initial design stages to create a low-EMF environment in each of the Mandala Club homes so that they are as "electrically and magnetically clean" as possible, based upon prinicples taught by Building Biology.
Please click here to see a Rendering Gallery of the site plan, cottages, villas, homes and condominiums.
Mandala Club is developed by Richard Bialosky, AIA and David Ederer. Call 772.234.3118 for more information.
Newport Beach, California
"Having Oram Miller come to my home for a screening was extremely worth every minute! First, his quick education and presentation on the types of EMFs was very informative. I did not know about the different types and their possible impacts to health. Secondly, his screening of the rooms and feedback was very thorough and reassuring. I learned a few quick fixes on safety and reducing exposure to EMFs. This is a topic everyone should know about and I truly believe that in time the world will understand the impact some of these exposures have on health. I recommend Oram to everyone I know. It is reassuring to get your home screened and to know where you may need a simple fix or change. Thank you ORAM!"
— G.T., Newport Beach, California
Compton, California
"I am 100% healed of my chronic fatigue and its definitely related to what you did about my breaker box and your advice. It's been about three to four months since you came to my house. It was about three weeks after turning off the breakers before feeling normal again. It's been ten years since I've felt normal and I had drive. I was always so tired and exhausted and had nothing in me every single day. It's been years of it. Just the simple thing of turning off the breakers at night takes it away. Whenever my husband forgets to turn off the breakers, I immediately wake up in the morning exhausted with no drive. It's such a direct issue. This was the last piece of the puzzle. I've done so many things over the years but never fully felt myself. And this did it. I'm so appreciative of you. Keep it up. I'm so grateful. You're really changing people's lives. It's absolutely amazing. I wanted to make sure you knew how you've impacted my life."
— R.C., Compton, California
Ramsey, Minnesota
"I just had to express my heartfelt 'thank you' for taking away my weeks of anxiety and failed searches to find anyone to help me help my mom. I realize I didn't find just 'anyone,' but rather the best in your field!! (Oram's response: *Blush!*) And: Thank you for speaking with me over the phone today. I cannot begin to tell you what relief I feel to know I have a true, confident, and kind professional to work with. It never ceases to amaze me how much power we have (or, are given by God) to lighten another person's burdens… and you have done that very thing!"
— L.S., Ramsey, Minnesota (telephone consultation)

San Juan Capistrano, California
"Thank you, thank you, thank you for all the tedious electrical problem solving and continued education on the harmful effects of EMFs, Wi-Fi, cell phones, grounding issues and so much more at our house Monday and yesterday. I am so grateful that the EMF issues were able to be identified and solved. I slept like a baby last night thanks to you and your team. Your knowledge sharing, expertise, patience, professionalism and kindness are appreciated more than I can even articulate. You are such a blessing to the people you serve and for the work you are doing to makes homes safer. I feel honored to have met you. Thank you so much! I'm sure we'll talk again soon."
— C.S., San Juan Capistrano, California
Blaine, Minnesota
"For the longest time, I had been waking up with a slight 'heaviness' in my head, almost like a mild hangover. It didn't affect my clarity of thinking but it was very annoying. Turns out it was a sensitivity to EMF (electromagnetic frequencies). Oram Miller came over to do a 4-5 hour assessment. He was very thorough. We ended up moving our bed from one bedroom to the other and shutting off two rooms in the fusebox every night. Man, what a difference that made! You know what it's like waking up after camping outdoors-your head is clear and you feel refreshed? That's what it feels like now to wake up every morning. It's like night and day! I highly recommend Oram. He's very passionate about his work and very caring, too."
— P.B., Blaine, Minnesota